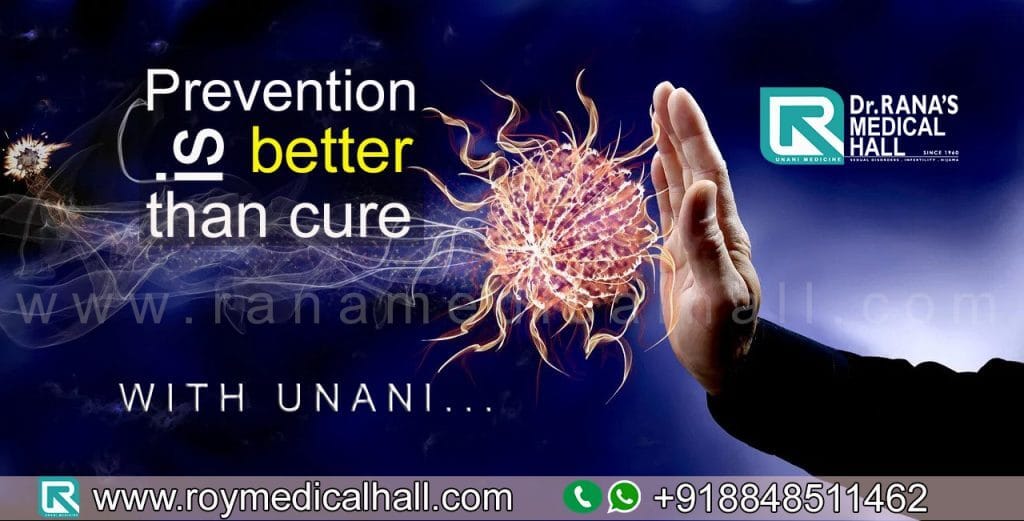 Unani & Chronic Virus Infection
Unani and immunity
Unani & Chronic Virus Infection – Unani system of medicine mainly focuses on the mental, emotional, spiritual, and of course, physical wellness of an individual. All these factors affect the natural well-being of a person and any imbalance in these results in illness or bad health.
In fact, it's the responsibility of each individual to take care of their own well-being.
In the Unani system of medicine, tabiyat is an individual's internal power or capacity to handle and overcome disease and eventually helps to perform normal physiological functions. Unani believes in natural healing based on principles of harmony and balance. That's, in fact, a harmony attained by uniting the physical, mental, and spiritual realms.
If your tabiyat is good, then a natural cure, itself is possible because. Tabiyat is actually curing your disease and eventually, can help you to get rid of most infections without medical aid. Therefore your tabiyat should be well maintained for the effective working of the natural defence system of the mind and body. Thus the basic theory of Unani itself is maintaining a good immune system for fighting against diseases and infections.
How Unani can help in boosting your immunity against Chronic Virus Infection
However, Unani medicine always strives to find the best possible ways by which a person can lead a healthy life without any diseases. For better health and immunity, we should check these simple but effective things in life.
However, first and foremost have a Balanced diet.
Use clean and freshwater,
Breathe clean air
Secondly, A proper balance or harmony between the mind and the body should be maintained.
Thirdly, Our Metabolic system as well as excretory system should be effecient for our wellness.
Moreover Some General measures you can follow for boosting immunity in Unani against Chronic Virus Infection
Drink warm water.
Add fruits and vegetables in your daily diet.
Add Haldi or turmeric, amla, garlic, lime, ghee, and jaggery in your diet. Their antiseptic, anti-fungal and nutritive properties help to boost your Immunity.
Eat a balanced diet.
Exercise regularly.
Make sure you rest and sleep enough.
Stay away from harmful habits.
Stress and anxiety. Don't think too much
Sharbat Khaksi, Sharbat Banafsha, Khamira Marwareed can be taken for improving your immunity. Unani medicines for your immunity. Unani medicines use a natural blend of herbs that strengthen your immune system and keep you energetic and healthy. Listed below are some of the classic medicine used in Unani for providing immunity and managing the chronic virus.
AYUSH UNANI JOSHANDA
Tulsi Powder – (4 parts) – 100 gms
Dry Ginger Powder- (2 parts) – 50 gms
Cinnamon Powder (2 parts) – 50 gms
Black Pepper Powder (1 part) – 25 gm
You may store it in airtight glass container
Usage – Add quarter spoon of above said mix powder in 150 ml of water, boil for 5-10 minutes, Filter it and drink, twice a day for better immunity.
You may even add Honey or Jaggery for taste
Unani medicines for your immunity.
Unani medicines Indeed use a natural blend of herbs that strengthen your immune system and keep you energetic and healthy as well. Some of the classic medicine specifically used in Unani for providing immunity and managing the chronic virus.
Unani Medicines that can be helpful for the management of Chronic Virus infection
Other important medicines – Source
1. Sharbat Unnab 10-20 ml twice a day
2. Tiryaq Arba 3-5 g twice a day
3. Tiryaq Nazla 5 g twice a day
4. Khamira Marwareed 3-5 g once a day
5. Massage on scalp and chest with Roghan Baboona/ Roghan Mom/ Kafoori Balm
6. Apply Roghan Banafsha gently in the nostrils
7. Take Arq Ajeeb 4-8 drops in fresh water and use four times a day
8. In case of fever, take Habbe Ikseer Bukhar 2 pills with lukewarm water twice daily.
9. Sharbat Nazla 10ml mixed in 100ml of lukewarm water twice daily.
10. Qurs e Suaal 2 tablets to be chewed twice daily
11. Arq extracted from following single Unani drugs along with Sharbat Khaksi is very useful:
Arq e Ajeeb, Classical Unani Drug. For preventing Epidemic Outbreaks of Flu and Associated Virus. Made up of Sath Ajwain + Sath Kafoor + Sath Pudina
Also effective in Sore throat, Cold, Cough and Respiratory Infections.
Meanwhile, you can also Take steam
Disclaimer: This is just for the sake of information. All the medication should be taken only after consulting a registered Unani physician.