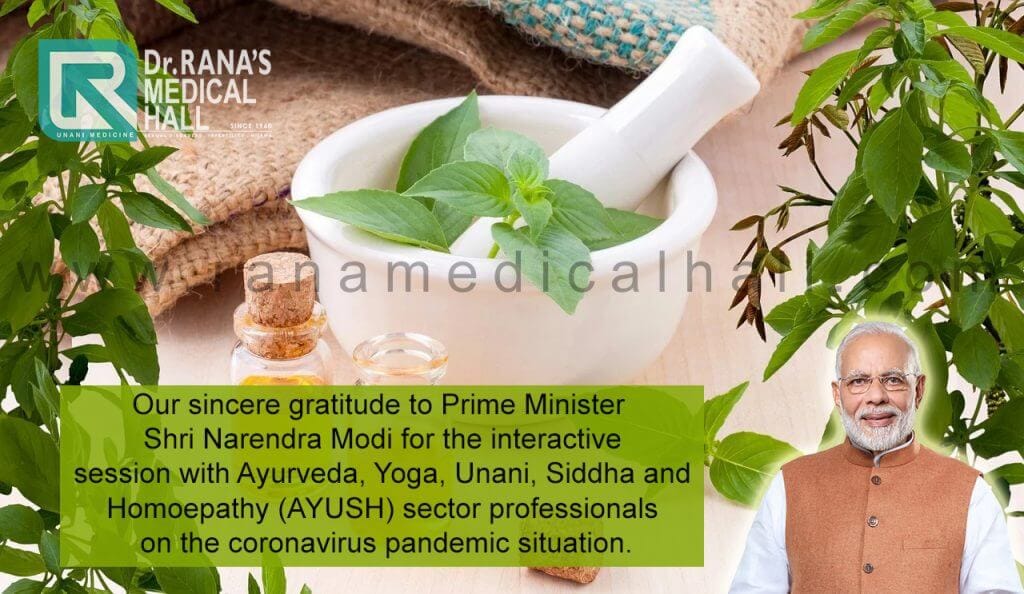 Prime Minister Shri Narendra Modi had an interaction with Ayurveda, Yoga, Unani, Siddha and Homeopathy (AYUSH) sector professionals
PM AYUSH Unani professionals – – On Saturday 28th March 2020, Prime Minister Shri Narendra Modi had an interactive session with Ayurveda, Yoga, Unani, Siddha and Homeopathy (AYUSH) sector professionals from around the country on the coronavirus pandemic situation. Source
The Ministry of Ayurveda, Yoga & Naturopathy, Unani, Siddha and Homoeopathy (abbreviated as AYUSH) has purposed with developing education, research and propagation of indigenous alternative medicine systems in India.
The Ministry headed by Minister of State (Independent Charge), currently held by Shripad Yesso Naik.
The Union Minister for AYUSH, Cabinet Secretary and Secretary, Ministry of AYUSH, also participated in the interaction held through video-conferencing.
The AYUSH practitioners appreciated the Prime Minister for leading the country's fight against COVID-19. They also discussed PM about the role of traditional practices in building immunity against this pandemic situation as well.
While talking to the AYUSH sector practitioners, the Prime Minister initially remembered that it has a long tradition of keeping the nation healthy and eventually, it's importance has increased manifold in the ongoing efforts to handle COVID-19.
He also observed that their network has spread across the length and breadth of the country. Undoubtedly, By utilizing this network, they can play a vital role in controlling the spread of the dangerous virus by spreading the message of good practices that have adopted according to WHO guidelines.
To meet the corona challenge the country must be ready to use the entire healthcare workforce and if there is a need.
Private doctors connected with AYUSH may be utilised by the government as well, PM said.
Consequently, He also shared the idea of making use of telemedicine platforms by Ayush professionals to reach out to the public and as a result can generate constant awareness to fight the pandemic.
Finally, PM also said about the importance of enforcing social distancing with full vigour to contain the spread of the pandemic.
Shri Narendra Modi also praised the ongoing efforts of AYUSH Ministry in promoting Yoga At Home. Yoga obviously helps to de-stress the mind and strengthen the body during this lockdown period.
Moreover, Prime Minister underlined the importance of countering and fact-checking unsubstantiated claims of AYUSH having a cure for the disease.
AYUSH scientists, ICMR, CSIR and other research organizations must come together for evidence-based research.
Prime Minister also urged that AYUSH medicine producers could utilize their resources towards producing essential items like sanitizers which are in high demand these days.
Our sincere gratitude to Prime Minister Shri Narendra Modi for the interactive session with Ayurveda, Yoga, Unani, Siddha and Homoeopathy (AYUSH) sector professionals on the coronavirus pandemic situation.